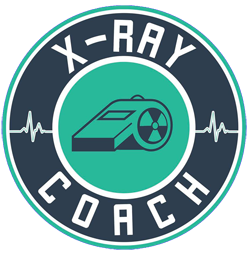 • 10 or more Mock Exams!
• Over 2,800 questions with immediate feedback!
• More than 115 video lessons!
• Follows the EXACT ARRT® Registry content categories!
• Developed by expert educators!
X-Ray Coach Follows The EXACT
ARRT® Registry Content Categories
- Multiple mock registries with the EXACT amount of questions from each of the ARRT® content categories
- Over 2,800 questions
- Separated by ARRT® categories
- Immediate feedback provided
- Retake mocks as many times as needed
- More information click here
- Identify strengths and weaknesses
- Take individual quizzes of the four major content areas on the ARRT® exam
- Your scores are immediately provided to help develop your plan for improvement
- 22 Lesson modules
- 6 Interactive review games
- 2 quizzes with immediate feedback
- 28 interactive review quizzes
-11 Quizzes with immediate feedback
-5 Interactive review games
--5 Interactive study modules
--Comprehensive anatomy review
- 3 Quizzes with immediate feedback
PRESSED FOR TIME?
Buy up to 6 individual mocks $20 each!
X-Ray Coach Has the BEST Game Plan!
No other company will follow the ARRT® specifications with their lessons exactly like we do.
Every topic is covered. Study ONLY the things you need to know! Compare our outline with the ARRT® Exam content!
FREE gift when you pass the registry!
You worked hard to earn your RT(R). Let us congratulate you with a gift! We will personally mail you a gift that includes free T-shirt, key-chain, free shipping coupons for XrayTease apparel and free shipping for markers at Mark-IT Markers.
Acc

ess to

RT

BOOSTER

Modules

...
This includes modules that teach how to use the C-ARM and includes surgery tips and tricks. Modules that teach you how to ACE your first interview and create a resume. This also includes over 43 resume and cover letter templates and more!
Join as a class and get a LARGE discount. Keep track of your student's progress. View all the grades and current status from one screen. Let us create a custom X-Ray Coach course for your program today!
We are the ONLY company that will coach you BEFORE and AFTER the registry!
2,800 + Questions
Mobile friendly and more than 115 video lessons
Lessons total over 14 hours of video!
Interactive quizzes and games!

Look at all the benefits of X-Ray Coach
Comprehensive Anatomy Review
Positioning lessons on every exam listed on the ARRT® registry exam specs. Full review with 100's of images to quiz you on Anatomy.
COACH DIAGNOSTIC tools are used to see what areas you need to focus on and where are your strengths!
Study specifically in your weakest areas!
BONUS modules that will teach you how to set up and use the C-ARM and tips and tricks for positioning. Modules on how to interview for your first job, how to prepare a resume with only student experience and includes over 43 resume/cover letter templates. ($199 Value) These include 8 already customized for the radiology student! We include FREE radiology adult coloring pages to help relieve stress.
The only company that has video modules set up EXACTLY to match the content categories of the ARRT® specifications.
We also coach you
AFTER the registry!
We are the only program that will coach you before and AFTER your registry. We will provide you with links for job searches. X-Ray Coach provides information about continuing education. We also provide resources and most up to date information about getting a state specific license if you want to relocate to another state.
Gain FREE access to our customized X-Ray Coach social network! Add friends, post questions, network with peers. Instructors can create private groups to communicate with students!
Once you pass the registry we want to celebrate with you! To congratulate you we will mail you a FREE T-shirt and key-chain. X-Ray Coach will also provide FREE SHIPPING codes to Xraytease.com the nations largest radiology store and Alisha Goes Crafty store for unique custom markers!
CREATE A FREE ACCOUNT AND TRY OUR DEMO TODAY

ARRT® is a registered trademark owned by the American Registry of Radiologic Technologists. X-Ray Coach is not licensed by, endorsed by, or affiliated with The American Registry of Radiologic Technologists and does not receive any test preparation materials from The American Registry of Radiologic Technologists.